Archive: Mar 16, 2018, 12:00 AM
Withers & Co works hard to bring our clients new ideas, trends, and examples of how other companies are using promotional products, branded merchandise and apparel to take the from a company to a brand. These businesses know their merchandise and apparel is the only part of their brand their clients can touch, so it needs to be special. Our blog is a source for ideas and inspiration. Find something that resonates with you and Withers & Co can help you apply that concept to your merchandise and apparel here in New Zealand.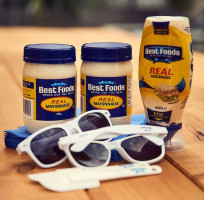 Best Foods National BBQ Day Brand Activation
Kiwis love to BBQ. Kiwis love Best Foods Mayonnaise. So when Pead PR asked us for some BBQ related personalised merchandise to help Best Foods with a National BBQ Day brand activation we weren't surprise. What merchandise to use? Fill in the missing word - "at the BBQ last night Steve sat on his ___________ and broke them....
read more