CamelBak High End Branded Merchandise
CamelBak has long been the go-to brand for quality on-the-go hydration products. Whether you are a runner, cyclist, skier, keen hiker or just general outdoor enthusiast, you will know the CamelBak brand is a name you can trust for quality and reliability.
Best known for their hydration packs, CamelBak now produces a wider hydration range that includes stainless steel water bottles, insulated tumblers or reusable cups, vests and waist packs and of course, the classic 50% recycled Tritan™ Renew plastic water bottles that are BPA, BPS, and BPF free.
Who Invented CamelBak?
The CamelBak story began in Texas back in 1989 with a guy named Michael Eidson. Michael was an avid cyclist looking for a better way to hydrate during the Hotter'N Hell 100 mile bike race just outside of Wichita Falls.
Driven by his desire for a safer way to drink while he rode the gruelling race, he grabbed an IV bag, filled it with water, attached an IV tube and stuffed it all in a sock, pushed it down the back of his bike jersey, then fed tube through the back up and over his shoulder. Finally, he clamped the tube shut with a clothes peg and away he went!
Brief History Of Camelbak Hydration Pack's
Within months of completing his cycle race, where he came up with the concept, Eidson had the original prototype 'ThermoBak' ready for the market. The ThermoBak was a basic design with an insulated sleeve with two nylon shoulder straps and a hose. From here, he developed the first CamelBak, which still relied upon IV bags as the internal water reservoir.
Interest in the CamelBak soon emerged from military sources due to its ease of use. By 1991, this basic cycling accessory quickly became the canteen of choice for soldiers around the world. The military not only provided a fresh sales outlet, they prompted new design elements such as thicker custom materials, different colours, and anti-microbial reservoirs and tubes.
By 1997 the CamelBak products had caught the eye of ex-military fighter pilot Chuck Hunter who assisted the company in becoming a global leader in hydration systems for the military. This was also when the company began manufacturing its own reservoirs with greater durability in mind. This allowed for increased customisation, and a new range of product sizes and capabilities emerged.
Although military products quickly became CamelBak's dominant business, they have maintained their presence in the civilian market bringing the innovations from the military environment into their cycling, running, skiing and hiking backpack products.
In 2001 they introduced a snow sport specific reservoir, in 2003 the first run-specific bladder and in 2007 wearable hydration garments for cyclists with integrated reservoirs. The following years saw improvements to the reservoir design, including better access, slosh reduction and larger mouth opening.
More recently, CamelBak has launched specific products for women and children, including more tapered designs, softer materials and higher chest straps in their design.
Where Did The Name CamelBak Come From?
The CamelBak brand is named after the urban myth that camels store water in their hump. So the CamelBak hydration reservoirs immolate this by storing water on your back. However, this is a common misconception; camels store fat in their back humps, not water.
Where Is CamelBak Located?
CamelBak is an outdoors equipment company based in Petaluma, California, in the United States of America. CamelBak products are now made in the USA and China and sold worldwide.
What Are CamelBak Reservoirs Used For?
CamelBak reservoirs are fitted inside their range of backpacks. They are designed from 100% free BPA, BPS and BPF plastic with a bladder style function that allows the product to hold water in a non-rigid way. The CamelBak reservoirs are leak-proof and will not burst.
Does The Military Use CamelBak?
Yes, many of CamelBak's customers are military. CamelBak supplies hydration packs, protective gear, and other products to the U.S. military and law enforcement agencies worldwide. The military favours the CamelBak brand of hydration packs for their durability and ease of use under both training and battle conditions. As a result, many of the developments in the CamelBak product line are derived from military use under extreme conditions. There is even a CamelBak backpack on display at the Imperial War Museum in London.
Which CamelBak Product Is Best For Your Next Marketing Promotion?
Aligning your brand with other high-end brands like CamelBak can be a powerful promotional tool. Branded Camelbak products are perfect for corporate gifting. Built-in reputational and brand reinforcement benefits are immediate, along with ongoing brand exposure as these products are built to last!
While hydration backpacks are their signature product, CamelBak also offers various other customisable products; see below for information on which CamelBak product is right for your next marketing promotion.
Hydration Packs And Everyday Carry Packs
CamelBak produces a wide range of backpacks designed to carry their reservoirs for hydration, primarily for biking, hiking, and other outdoor activities. They also produce other more general-purpose backpacks built to transport all of the daily essentials.
CamelBak's hydration packs come in capacities of 1.5 to 3 litres in a backpack style as well as the smaller 830 mL to 1.3 litre waist packs and vest packs. All of these packs can be personalised with your brand for the perfect high-end gifting solution.
Hydration Pack - CamelBak® Rim Runner Hydration Pack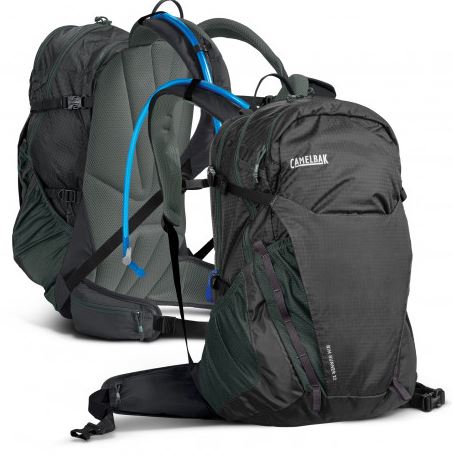 Everyday Pack - CamelBak® Pivot Roll Top Backpack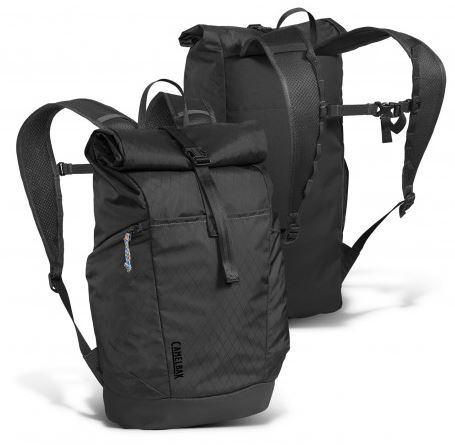 Water Bottles
CamelBak manufactures a colourful range of everyday water bottles from both lightweight plastic and more durable stainless steel. These bottles include stainless steel double wall water bottles, plastic 'Podium' sports squeezable water bottles, the classic 'Eddy' (straw style) and the 'Chute' which offers a traditional wider mouthpiece for uninterrupted flow.
All of CamelBak's plastic water bottles are made with Tritan™ Renew plastic, a 50% recycled material. These bottles are not only odour and stain-resistant; they are dishwasher safe and free of BPA, BPS, and BPF. The CamelBak range of plastic water bottles comes in 20oz, 25oz, 30oz and 50oz sizes. While the stainless steel range of the same styles come in 12oz, 20oz, 32oz, 40oz and 64oz sizes. Plastic CamelBak bottles are easily branded with your log and make excellent promotional products.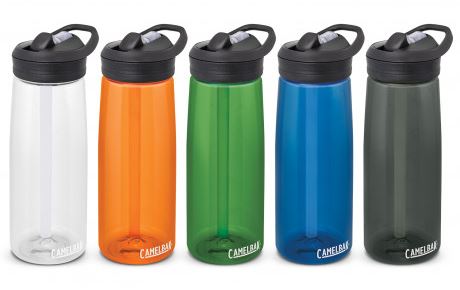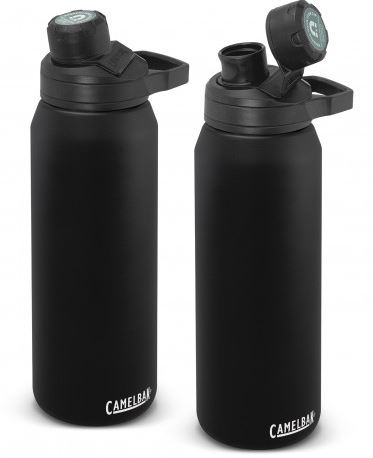 Tumblers
CamelBak sells a range of reusable stainless steel drinkware, including 12oz, 16oz, 20oz, and 30oz tumblers, as well as camp mugs and travel mugs. All of the CamelBak drinkware options are made from double-wall vacuum insulated stainless steel that keeps drinks cold for six hours or hot for up to four hours.
The scratch-resistant powder coat finish makes them look great and provides durability for everyday use. The tumblers come with a tri-mode flow control lid to avoids spills while on the go, and the drinkware is dishwasher safe with a tapered design to fit most cup holders. See below for some examples of CamelBak Drinkware.
CamelBak Horizon Vacuum Tumbler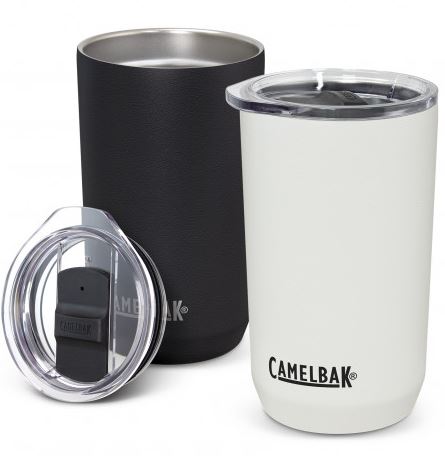 CamelBak Horizon Vacuum Camp Mug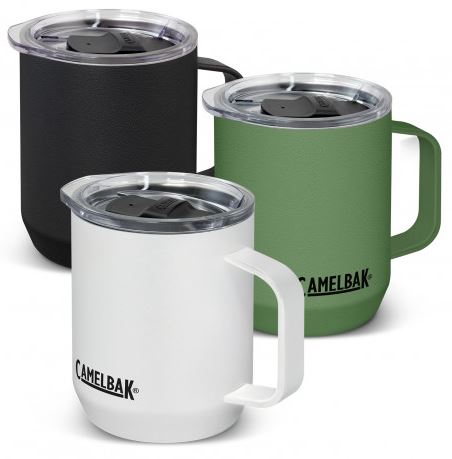 How To Order Customised CamelBak Products
A CamelBak hydration pack or water bottle printed with your logo is an excellent corporate gifting idea or just a great way to say thank you to clients and employees. CamelBak products are not only fashionable and practical, they are also reliable and durable. Associating your brand with the CamelBak brand means instantly communicating that your brand stands by these values and asserts brand value to the receiver.
Whether you choose a backpack or water bottle, branding these products for promotional purposes is a fairly straightforward process. Your logo can be applied using screen printing, Supa Colour Transfers, embroidery or Pad Printing, dependent on the type of materials to be printed.
When it comes to low minimum orders, fast delivery times, and custom branded merchandise, no one comes close to Withers & Co. To discuss branding options for CamelBak products, give us a call today!